Scratch Paintings Magic Art Drawings
Regular price
$12.90 USD
Sale price
$32.90 USD
Unit price
per
Bring your creativity to the next level! These scratch art designs are easy to work on and have amazing vibrant colors. They make great Christmas gifts for people who like art, someone who wants a painting on their wall, and even ideal for kids who like to draw.
During this coming festive season, we are offering more discounts for your purchases. Get this amazing DIY art piece for your friends and family. Do it together and have fun!
Enjoy a further 10% discount for purchases of any 2 art pieces or more. Enter the discount code 10ARTMAGIC during checkout.

(If you are buying pet items that already have a discount applied, you will need to purchase this in a separate checkout cart for this discount code to apply)
How it works
Grab a pen tool or the bamboo scratch stick that comes with the design.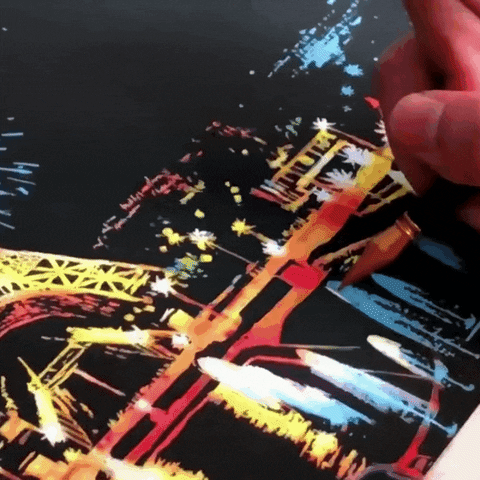 Follow the art lines and scratch using the pen tool/ bamboo scratch stick to reveal the colors!
Simple and easy to do. It is so much fun. Scratch the top layer and the colors of the artwork are revealed, showcasing the vibrancy of the landscape. Great family bonding with kids as well.

No coloring pencils or paint needed! No more mess to clean up.
Finally, you can frame up this masterpiece and showcase it to your guests!
We have plenty of different iconic landscapes, spanning across various countries. Grab one that represents your city. Teach your kids to learn about other countries' famous architecture too.
Standard Artpiece Package 
✔ 1 Landscape design of your choice
✔ 1 blank canvas for DIY
✔ 1 bamboo scratch stick
Material: Coated paper, Eco-friendly scratch ink
Size = 285mm x 405mm
Items are packed in an envelope.
Toolsets can also be purchased separately if needed. The toolset consists of:
1 pen tool
1 scraper
1 brush
1 bamboo scratch stick 
The pen tool is sharp, so parental supervision is highly advised if kids are using it. Recommend to keep it out of reach from children.
---